for Symphonic Band
by Vicente Ortiz Gimeno
"Composition for Wind Ensemble inspired by the famous misterious character crime detective Hercules Poirot."
Honorable Mention at Corciano Composition Contest 2016.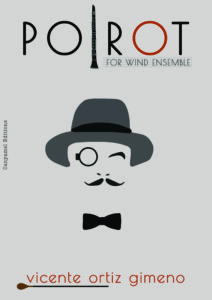 One movement
Duration: 17 minutes
Year of composition: 2016
Difficulty: 5
Instrumentation:
Piccolo, 2 Flutes, 2 Oboes (2nd doubles on English Horn), 2 Bassoons
Eb Clarinet, 2 Soli Bb Clarinets, 3 Bb Clarinetes, Bass Clarinet in Bb
2 Alto Saxes in Eb, 2 Tenor Saxes in Bb, Baritone Sax in Eb
4 Horns in F, 4 Trumpets in Bb, 3 Trombones, Bass Trombone
Flugelhorn in Bb, 2 Euphoniums, Tuba
Timpani, 6 Percussion, Harp, Piano, Violoncello, Double Bass
Buy a digital copy of Poirot for Symphonic Band. It includes the full score and the individual parts.